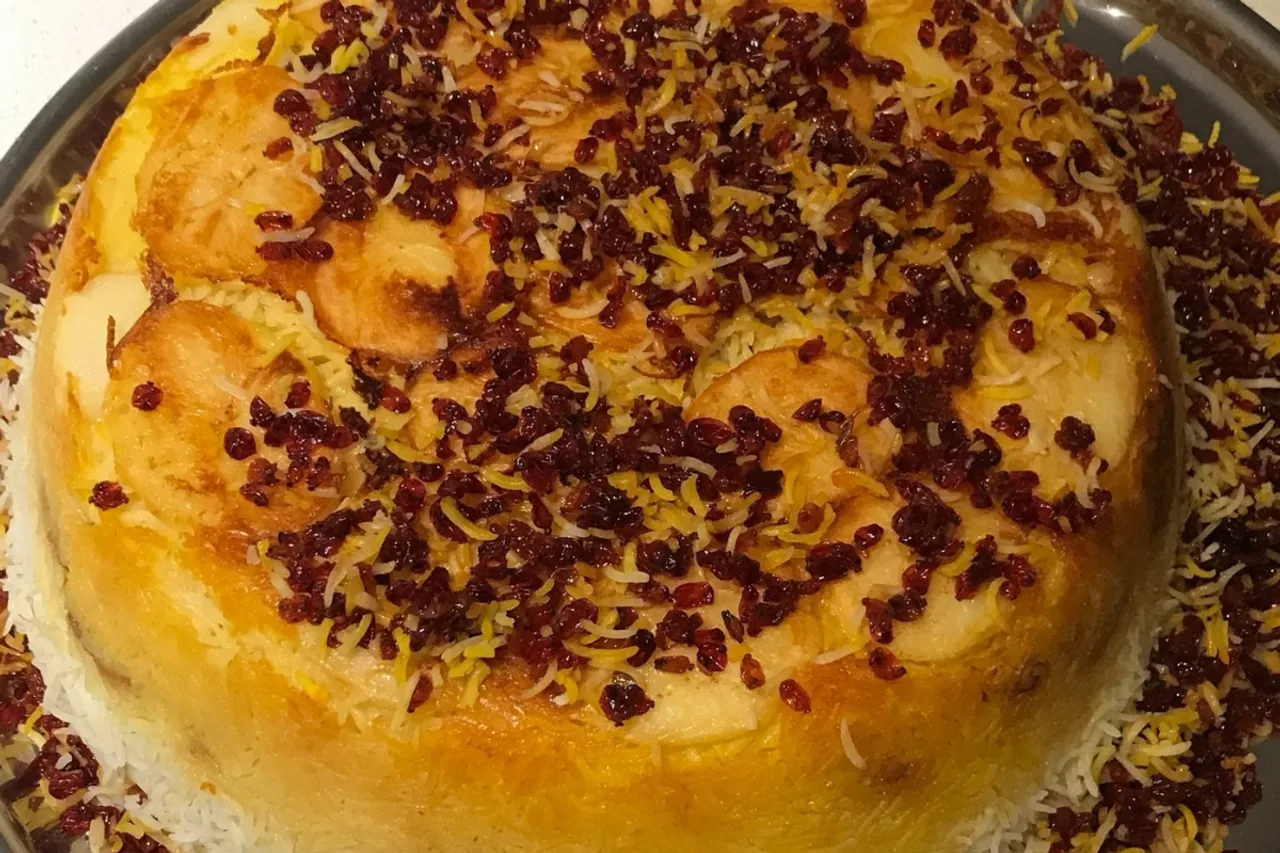 This Iranian classic that couples rice and barberries also known as "celebration rice" or "jewelled rice", this is often cooked on special occasions including weddings. It is made with wild, red barberries (zereshk), which give the dish its jewel-like appearance and an exotic, slightly tart taste. It is usually served with chicken, as it is in this recipe – the chicken, while delicious, is considered the accompaniment and the rice is the centrepiece.
Serves : 8
This Pullao is made in two parts – the chicken cooked in a tomato sauce and the rice. The chicken can be cooked the day before and refrigerated till used. The rice must be cooked on the day required. It is usually eaten with a yogurt and cucumber 'raita'… (2 cups whipped yoghurt, 2 chopped cucumbers, salt to taste, 1/3 tspn dried, powdered mint and a sprinkle of sultanas which is optional). The base of the rice, once it is cooked, tipped out and served, should be golden brown, Crunchy and crispy and quite delicious… this is known as 'tahdeeg'…
Tips: I make no apologies for the generous use of butter… it adds oodles of flavour!!!!! (But… the butter can be substituted with any cooking oil of preference, with the exception of the tahdeeg… in this instance, butter must be used)
Ingredients:
12 chicken pieces. (I prefer to use boneless, skinless, chicken thighs – each thigh cut into 3 pieces)
1/4 cup oil.
4 onions finely chopped
1/4 cup melted butter (oil of choice can be used, but the flavour is enhanced if butter is used!)
6 tomatoes – puréed (1 can of crushed tomatoes can be used… I prefer fresh!)
1 tspn crushed garlic
1 tspn crushed ginger
1/2 tspn turmeric pwdr
1/4 tspn cinnamon pwdr
1/6 tspn clove pwdr
1/6 tspn cardamom pwdr
Salt to taste.
Juice of half a lemon
Generous pinch of saffron strands soaked/'bloomed' in 2 tblspn of hot water.
Cooking Instructions:
Preparing the Chicken:
Heat butter/oil and fry chopped onions – stirring regularly until evenly golden. Add garlic ginger, allow to cook for a minute or two. Set aside.
In a large pan heat oil and sear chicken pieces on both sides.
Remove chicken pieces from oil and add to browned onions. Place on medium heat.
Add all powdered spices. Stir through and cook for 5 minutes.
Add puréed tomatoes. Stir through and cook till chicken is 3/4 cooked.
Add lemon juice and saffron.
Once cooked there should be about 3 cups of gravy in the chicken. Remove from heat
Cooking The Rice:
You will need a Large non-stick pan with lid to cook the rice and a large colander to drain the rice.
4 measuring cups long grained basmati rice.
12 cups water
Salt to taste.
1 cup melted butter
6 tblspn of bloomed saffron (soak a generous amount of saffron in 6 tablespoons of hot water)
2 large potatoes, washed and peeled. Cut into circular slices. Soak in water.
Barberries:
1 cup barberries, cleaned and washed (you will need to 'sort' through the berries before washing them – remove any 'stems' attached to the berries and remove any 'foreign' objects i.e. tiny grit and stones).
1/2 tspn sugar
1tblspn bloomed saffron
1/4 cup butter.
Step By Step Method
Gently wash rice – place rice in a bowl and cover with cold water and 1 tspn of salt. Allow to soak for at least a couple of hours.
Fill the large, non-stick pan with the 12 cups of water – place on high heat with salt. Cover and bring to boil.
Drain soaking water from rice and add drained rice into boiling water on the stove.
Gently stir the rice with a slotted spoon. Allow to boil for 7-10 minutes. Check one grain of rice, the grain should be soft on the edges and you would be able to break it into two using your finger tips but the grain should still be firm in the middle.
Place colander in sink and quickly but very carefully pour out the rice into the colander, so that all the water drains away.
Pour some cold water through the rice to stop the cooking process. Let stand and Allow rice to drain well (let stand for at 1/2 hour). (Tip: try to 'handle' the rice as little as possible, at this stage, so as not to 'break' the grains).
Pullao Assembly
Keep the cooked chicken, bloomed saffron, drained rice, drained sliced potatoes, and barberries ready.
Rinse and Place the same non-stick pot on heat. Add the butter and allow to melt.. add 1/4 cup water.
Stir and pour out 2/3rds of butter/water mixture into a bowl. Set aside and reserve. There should be enough butter left in the pan to cover the base.
Place drained, potato slices to cover the base of pan. Lower heat to medium.
With slotted spoon gently and evenly Place a layer of rice over potato slices. (Tip: the idea is to incorporate as much air as possible between the grains of rice. It is this 'air' that will heat up and aid the steaming process… do not 'bang' the spoon/utensils against the sides of the pan as this 'settles' the grains and 'loosens' the air in the rice').
Top with an even layer of chicken. Add a little of the chicken gravy with each piece of chicken.
Cover this with another layer of rice… followed by a layer of chicken and so on. Ending with rice as the final layer.
When the final layer of rice is completed….take a chopstick and 'poke' holes evenly around the surface of rice. This allows the steam to rise to surface and evenly cook the rice.
Pour the reserved butter evenly over the rice.. sprinkle the saffron bloom over the surface of rice.
Wrap the lid of the pan in a kitchen towel and place it securely on the pot.
Turn the heat to medium until it starts steaming, about 10 minutes. Now turn the heat to medium low and cook for a further 1 hour. Check to make sure the rice is cooked. Sometimes you may need another 20 mins of steaming (depend on the heat)… do not turn up the heat to speed up cooking… we do not want the base to burn.
Preparing the Barberries: While the rice is steaming…. in small frying pan, heat 1/4 cup butter, add barberries, sugar and saffron. Stir until berries begin to look 'shiny' but do not allow to become very much darker…take care not to overcook the berries. Remove from heat and set aside until ready to plate the pullao.
When ready to serve: (Tip: this dish is best served soon after heat is turned off)
Skim off a cup full of the top layer of rice and gently mix with the fried barberries…Take a large serving platter (should be 1 & 1/2 times larger than your pan)… Place platter over the 'mouth' of the pan, hold firmly and gently flip pan over so that the entire Pullao comes out like a cake. Arrange the rice mixed with barberries around the cake. Enjoy
For latest health news and updates, expert advice on nutrition, diets and gut health, healthy recipes, and more, like us on Facebook or follow us on Instagram. Read more on Healthy Goodies Blog
Disclaimer : Healthy Goodies is a digital publisher and does not offer personal health or medical advice.  You should consult your healthcare provider before starting any nutrition, diet, exercise, fitness, medical, or wellness program.
Buy the essentials like Saffron for this recipe from the healthygoodiesstore as shown below