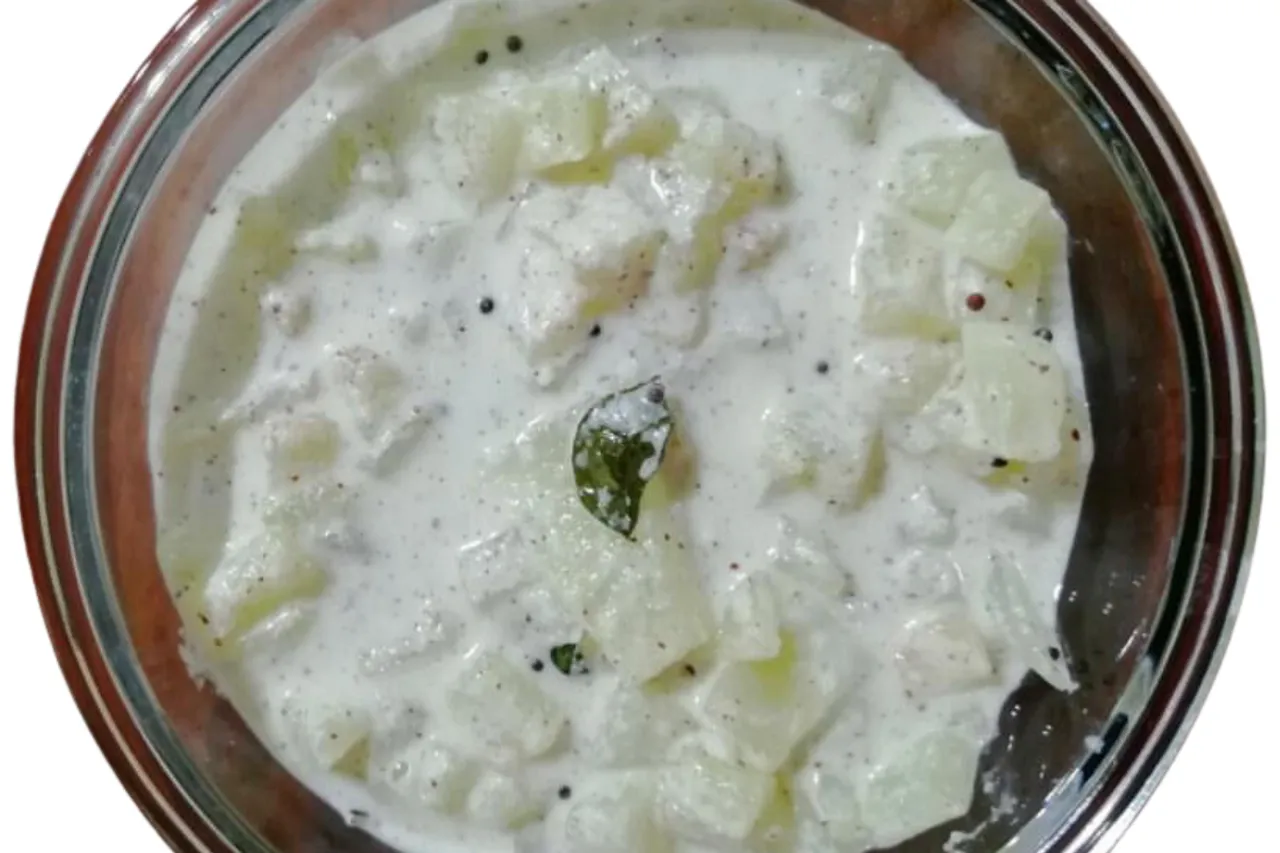 Enjoy the intriguing and tasty flavors of the watermelon-rind yogurt curry brought to you by Sonal Dhar. The creamy yogurt base and the combination of sweet and savory flavors produce a mouthwatering taste that is ideal for the hot summer days. To discover the secrets of this delicious culinary delight, simply follow this easy recipe. Let's get going and create a culinary masterpiece out of leftover kitchen scraps! 🍉🍲🌞
Ingredients:
White Portion of Watermelon rind cut into small cubes – 1 cup
Grated Coconut – ½ Cup
Yogurt – A Tbsp or two, depending on the consistency of the curry you like
Mustard Seeds – ½ tsp
Salt – 1 tsp
Green Chillies – 2
For Seasoning:
Oil – 1 tsp
Mustard Seeds – ½ tsp
Curry Leaves – 5-6
Pinch of Asafoetida
Method:
• In a vessel, steam the watermelon rind cubes on medium flame until soft. (It is better to season and toss the cubes with salt before steaming. Adding the salt later, doesn't taste the same. Also, they can be steamed in microwave, using a microwave safe bowl. You need to add a tbsp of water and cover the bowl and microwave for 5 minutes. When the cubes are cooked enough, they become translucent)
• Meanwhile grind coconut with mustard seeds, salt, 1 green chili, and little water to make a paste.
• Add the cooked watermelon rind to this mixture. (the pieces need to be cooled to room temperature before adding as this is a cold curry. They can be cooked and refrigerated and mixed into the coconut paste later too)
• Add the Yogurt to the bowl and mix well.
For the seasoning, heat oil in a pan and add the curry leaves, asafoetida, 1 green chili, and mustard seeds. As the seeds pop, pour the seasoning over the yogurt rind mixture. Serve with steamed rice. (We usually have this as a side dish with Sambar-rice or Rasam-rice)
For latest health news and updates, expert advice on nutrition, diets and gut health, healthy recipes, and more, like us on Facebook or follow us on Instagram. Read more on Healthy Goodies Blog