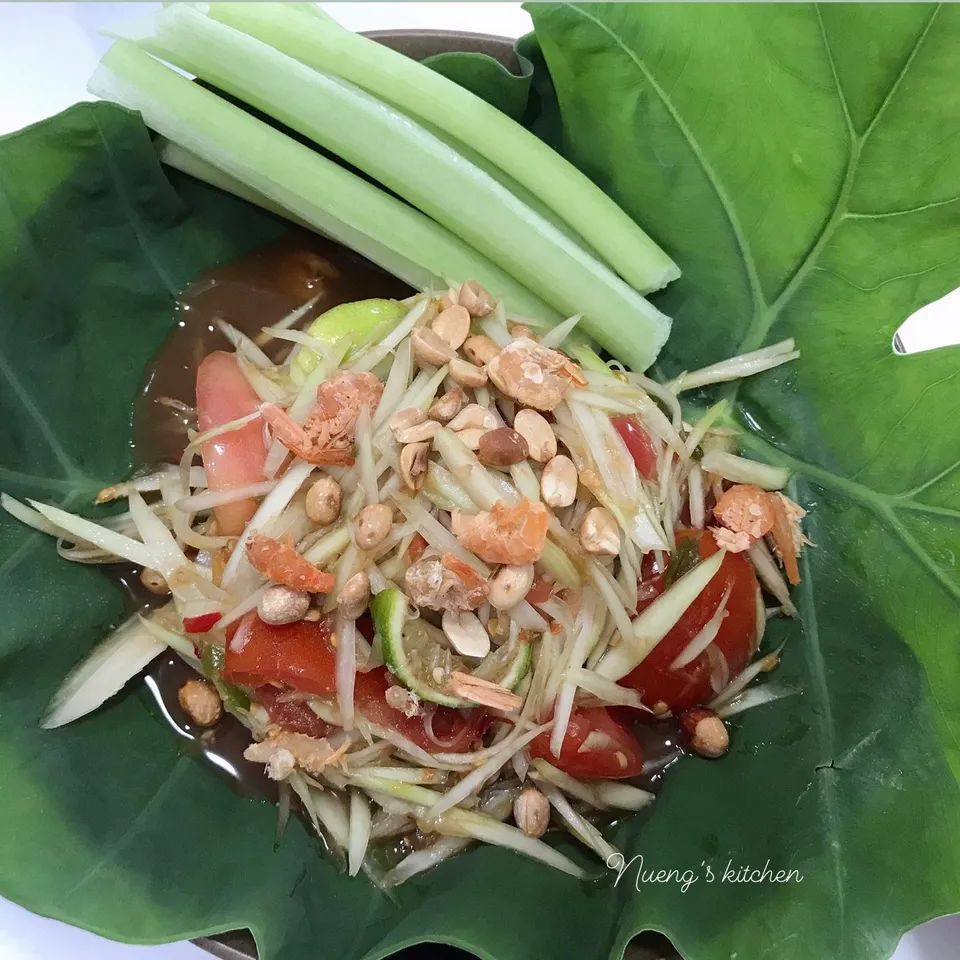 Perfect for the summer days that are still with us, here is yet another special recipe from Nueng's Kitchen. Nueng, our brand new Chef from Thailand is back this week with a refreshing and delicious Thai Raw Papaya Salad or Somtum (Thai style).
Ingredients:
Chopped green papaya: 100 g (keep in the fridge about 10 mins before use)
Tomato cut in pieces: 60 g
Dried shrimp: 10 g
Roasted peanut: 10 g
Chili : 3-5 chilies
Garlic: 1-2 cloves
Lime Juice: 2 TBS (cut in pieces and squeezed)
Fish sauce: 2 TBS (you can buy here)
Palm Sugar: 1 TBS (you can buy it here)
How To Make The Thai Papaya Salad
1. Pound the garlic and chilies together
2. Squeeze lime (squeeze lime and put the lime peel in), fish sauce, palm sugar then pound gently.
3. Put tomato and papaya in and pound again
4. Put the peanut and dried shrimp in and mix
You can add some more lime juice, sugar, or fish sauce if you like. I prefer to use the organic lime that grows in my garden and even add the peel to the salad for the additional fragrance of lime that increases its freshness quotient a lot. 
Thai people normally eat papaya salad with grilled chicken or fried chicken and rice (or sticky rice) and fresh vegetables such as long beans, cucumbers because the papaya salad is considered to be a spicy dish. You can try papaya salad with boiled egg as well.
Enjoy!
For latest health news and updates, expert advice on nutrition, diets and gut health, healthy recipes, and more, like us on Facebook or follow us on Instagram. Read more on Healthy Goodies Blog