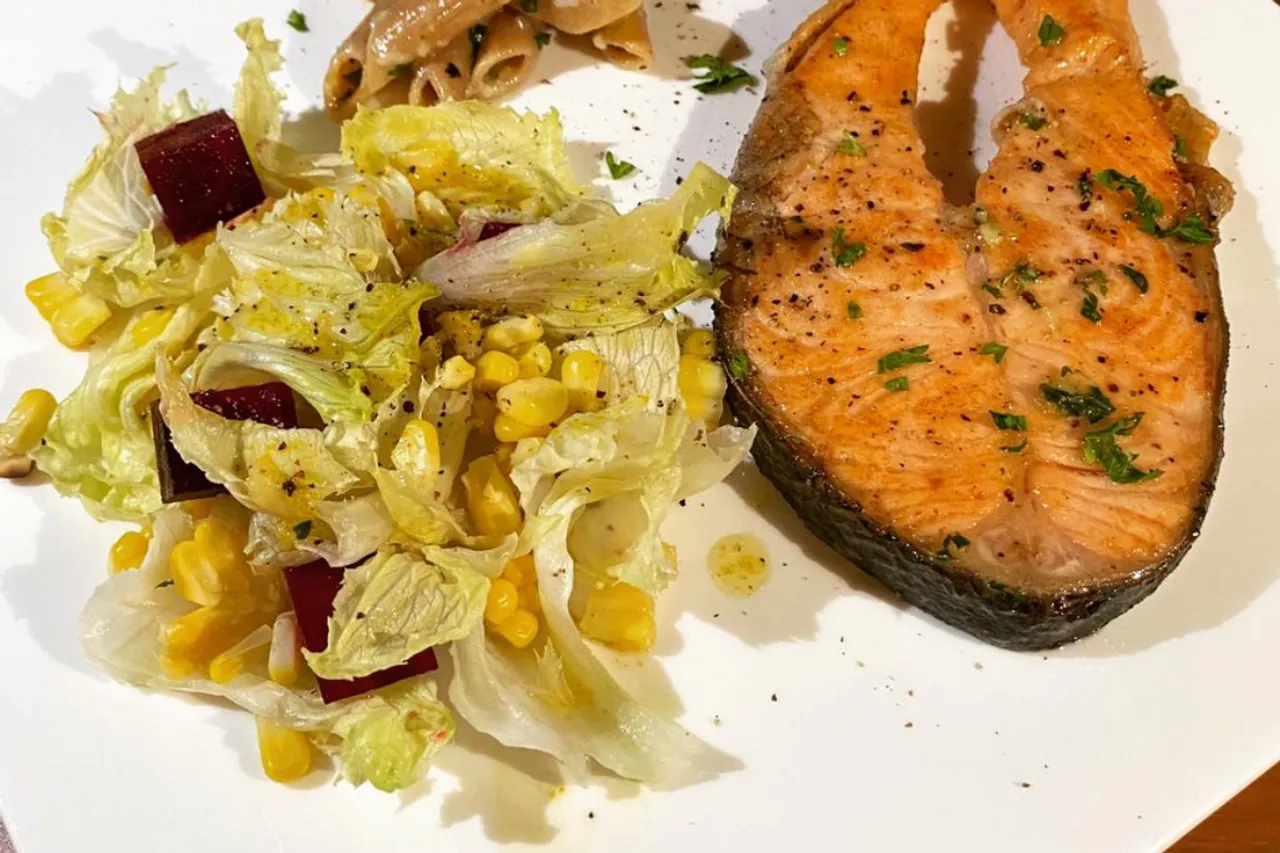 You can go off script with all or one of them. Like if you prefer herbed rice or mash or just garlic bread instead of pasta. As far as the salad is concerned it could be replaced with sautéed vegetables in butter garlic, steamed veg tossed in lime juice, salt and pepper or any other salad. The only thing that really matters is that the produce should be very fresh and delicious as the cook is very simple so there is nothing to hide behind. Also, I must mention that I always use a very good quality of extra virgin olive oil, it can do wonders in terms of flavour with almost no effort on my end.
Ingredients – For The Salad
Boiled sweet corn
3 boiled beets
Iceberg lettuce
Ingredients – For The Dressing
2 tbsp of dijon mustard or any other mustard you like
2 Tbsp apple cider vinegar or any other vinegar you have in your pantry
1 Juicy Lemon
2 tbsp Honey
Pepper
2 Garlic pods (you can omit garlic if you don't like the taste of raw garlic)
1/4 Cup olive oil
Sea Salt
Making The Salad
If you have boiled the corn on the cob then go ahead and shave the corn kernels off it.
Peel and cut the beetroot into bite sized pieces, put in that extra effort to make the pieces look as similar as possible, it won't affect the taste but will certainly be more enjoyable to look at.
Shred the iceberg lettuce into even forkable strips
For the dressing (this can be made well in advance) crush the garlic with salt till it forms a paste, then whisk in the mustard, vinegar, lemon juice and honey.
Slowly drizzle in the olive oil. Dressing ready!
When you are assembling the salad, do it on the plate so that the beetroot does not stain the salad. Just place a bed of iceberg lettuce on the plate, sprinkle sweet corn and place the cubes of beetroot. Take the dressing in a spoon and pour it into different pockets of the salad. Don't put too much, just place the rest of the dressing on the table so people may help themselves to more if they so desire.
Preparing The Pasta
Boil Pasta in well salted water (it should taste like the sea) Do it just before you are ready to serve and pasta tends to get stodgy the longer it lies outside. The moment the pasta has boiled, toss it in some olive oil so it does not stick to each other.
Tip For Serving The Pasta – Shred 1/2 a cup of Parmigiano. Just before you are ready to plate, take the freshly boiled pasta, add the butter and the grated cheese and give it a mix. Grate a little partigiano on top for presentation if you like.
Ingredients – For Herbed Butter
Fresh herbs of your choice (I took marjoram, oregano and thyme, and you can add basil too. I would have loved to add basil but I was out 🙂
50 gms of butter
3 pods of garlic
Chilli flakes
1 Tbsp of lemon zest
Making The Herbed Butter
• Chop the herbs and garlic and crush it together in the mortar and pestle with the lemon zest and some salt as the abrasive agent.
• Mix the butter in it, keep aside.
• This too can be done a day in advance but remember to cling film the top as the herbs will oxidise.
Ingredients – For The Fish
4 Salmon Steaks or Fillets
Salt
Pepper
Lemon juice
2 Tsp of butter
2 Tsp of olive oil
1 Tbsp of finely chopped parsley
Cooking The Fish
• Dab it with a kitchen towel so that there is as little moisture as possible (what we are doing is trying to get instant caramelisation which builds flavour, if the fish is wet then it will steam cook instead)
• Gently salt the fish on both sides and crush some pepper.
• Then delicately brush some all-purpose flour on both sides.
Now make sure all the other components are ready – salad and pasta
• Heat your skillet, add oil and butter.
• Once the butter has melted, place the fish in the pan. Please don't crowd the pan, do it in batches if you have a small pan.
• Keep the flame on high as we want the colour on the fish but don't want it to overcook. I personally prefer my salmon slightly undercooked but you cook it to your level of doneness. (Remember that fish continues to cook with the residual heat from the pan.)
• Place the fish directly on the plate.
Enjoy your easy peasy dinner 🙂
For latest health news and updates, expert advice on nutrition, diets and gut health, healthy recipes, and more, like us on Facebook or follow us on Instagram. Read more on Healthy Goodies Blog
Disclaimer : Healthy Goodies is a digital publisher and does not offer personal health or medical advice.  You should consult your healthcare provider before starting any nutrition, diet, exercise, fitness, medical, or wellness program.
Buy the essentials for this recipe from the healthygoodiesstore as shown below