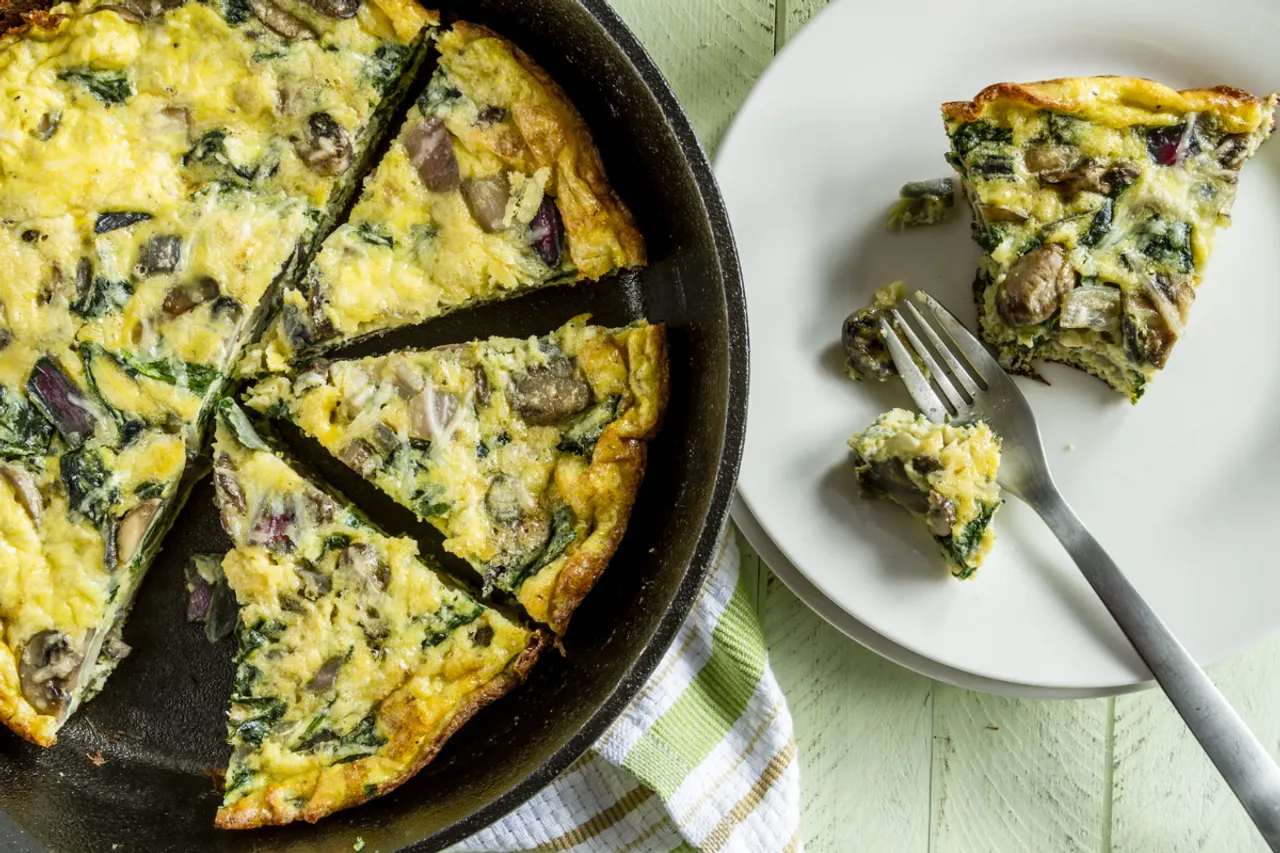 What is a frittata? Well, to most of us it will look like an omelet, albeit a baked one.
Where did it come from? Italy
Perfect for – breakfast or a quick snack
Prep + Cooking time: 30 – 40 minutes But you can make extra for 2 meals.
Ingredients (how much)
200 gms mushrooms (any kind that is handy)
2 tbsp sliced black olives
1 or 2 cloves of garlic (according to taste and size)
4- 6 eggs (depending again on the size of eggs)
2 -3 baby spring onions (depending on size)
Cooking oil (olive oil is best)
Salt and pepper (preferably fresh ground, but packaged is ok)
Method:
Pour a little cooking oil (one tbsp approx.) into the frying pan with oil and place over high heat on the stove. Add the mushrooms and slowly stir them till they start seating and become soft and brown. Drain away the liquid using a strainer and put them back in the pan – ensure they are not soggy.
Add the olives and crushed garlic to the mushrooms and stir them well together – to get the garlic flavor well and truly infused into the mixture. Add salt and pepper to taste. Once the mixture starts to sizzle (should take 2-3 minutes, reduce the flame to low.
Beat the eggs with a little salt while the mixture is on low flame and then pour the eggs onto the mushroom olives mixture.
Let the eggs seep all the way to the bottom of the pan and keep stirring till most of the egg has reached the bottom and middle layers of the mixture on the pan.
Keep separating the edge of the frittata gently from the side of the pan (use a little oil if needed, judiciously) and ensure that the bottom and sides of the frittata are not sticking to the pan. Continue this process till only the top layer of the frittata is still a little moist and the bottom and middle are solid (the bottom should look golden brown)
Now move the pan to the oven and place it under the grill until it sets.
Remove it from the oven/grill and serve it hot or after cooling it down to room temperature. Don't forget to make wedge-shaped slices.
For latest health news and updates, expert advice on nutrition, diets and gut health, healthy recipes, and more, like us on Facebook or follow us on Instagram. Read more on Healthy Goodies Blog
Disclaimer : Healthy Goodies is a digital publisher and does not offer personal health or medical advice.  You should consult your healthcare provider before starting any nutrition, diet, exercise, fitness, medical, or wellness program.