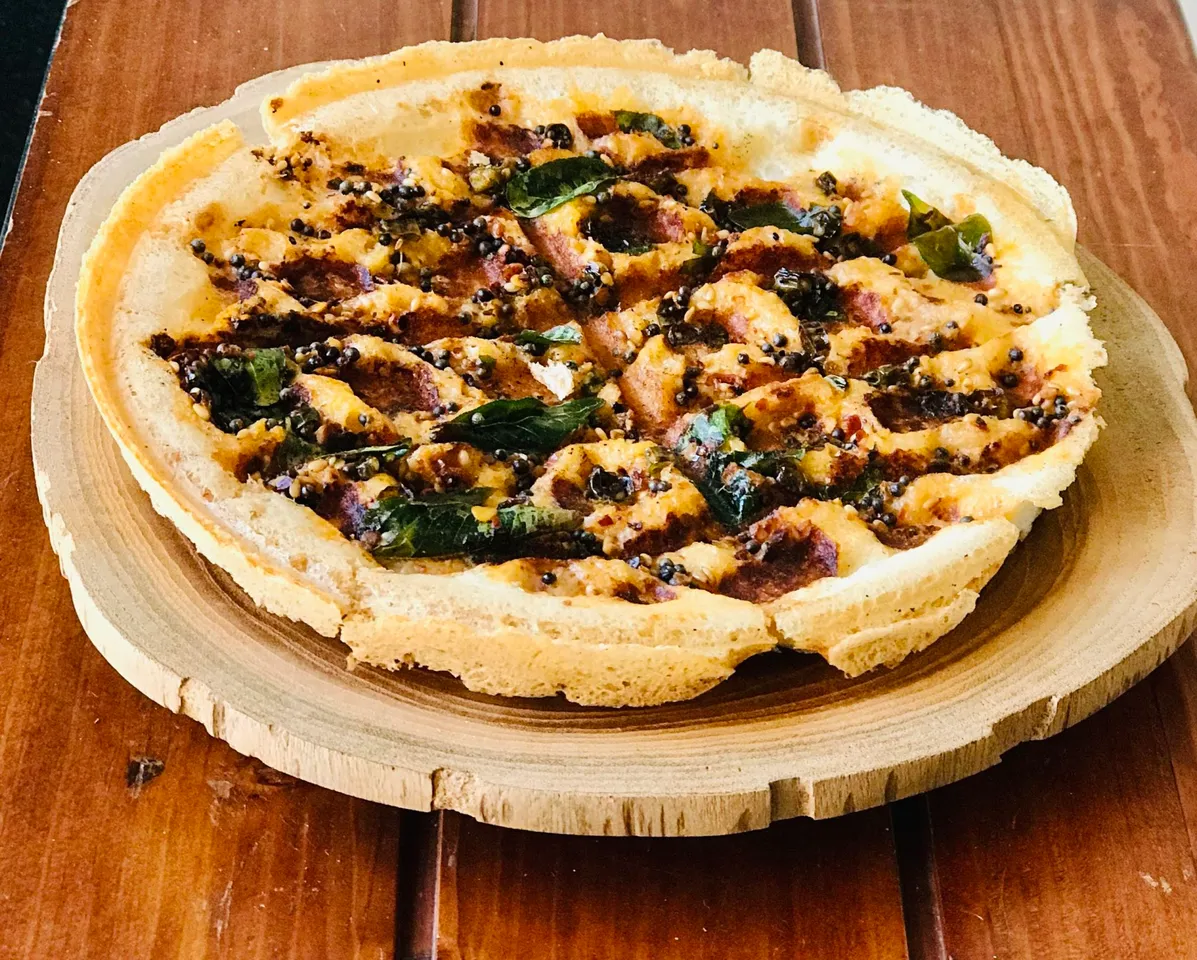 I combine my understanding of ingredients and international cuisine, and my own exclusive technique to create gourmet dishes that are truly healthy (vegan, gluten-free, almost no oil) that would be relished by Indian palates. I have been using this unique combination to create dishes that look spectacular and taste fabulous for my family for over 20 years and will share some of these treasures with you through a weekly column on TFN.
This week's innovation is the Dosa Waffle!
This has been my aim always – to achieve a recipe without compromising on the original taste of the dish and yet bring in some newness!
What I have learned about health and wellness is that the lesser one uses oil/ processed sugar/gluten/dairy, the better is the absorption of the nutrients by our body!
Here is one such dish !
A dosa in a waffle maker !
The batter is the same as one would make a classic on a flat cast iron griddle, instead, I made this in the waffle maker ..and drizzled it with a tangy sauce!
Ingredients
Dosa
4 measures of parboiled rice ( it's also known as idli rice )
1 measure of whole white urad dal
1 tsp of fenugreek seeds
1tbsp of salt
Drizzle sauce
1/4 cup tamarind paste diluted with 1/8 cup water
1/4 cup coconut milk
5 green chilies chopped
1/2 cup of chopped spring onions (the greens)
4 tbsp of fresh coriander chopped
5 cloves of garlic finely chopped
1/2 tsp Mustard seeds
1/2 tsp urad dal
Few chopped curry leaves (Kadi Patta)
Salt
METHOD
Dosa
1. Wash both the rice and daal separately and soak it in separate vessels with enough water for 4-5 hours or overnight
Add the fenugreek seeds to the rice.
2. After it's soaked wash each clean and blend the rice first with little water into a fairly grainy smooth thin consistency. You will have to add little water at a time to the blender.(for best results use a stone grinder if you happen to have it handy – this is available at any Indian utensil store, however, a high-speed grinder would do too…. just make sure to switch off the grinder in-between, or else it would get heated up )
3. Once the rice is done remove it in a slightly large vessel and then add the whole urad dal to grind. Again make sure to add as little water as possible, however, the dal should be well ground into a smooth paste. In the stone grinder, it doubles in quantity and becomes airy which is what we need in this recipe!
4. If you are using the regular grinder don't worry, you can achieve the texture with a little more process removing the paste into a deep bowl and hand blending it in one direction till the dal has changed the color into a brighter white and has become light and airy .. a bit of extra work but surely worth the effort!
5. Now mix this into the rice batter and give it a few more blends with your hand – make sure it's in one direction.
At this stage, you can add 1 tbsp of salt and hand beat the batter a few more times!
Cover this vessel and leave it overnight to ferment …
Sauce
In a pan add 1 tsp oil
Let it heat up
Then add the mustard, split udad dal and let it splutter. Add the garlic let it get crunchy then
add the hing, the green chilies, the spring onions, wait for just for 1 min and add the rest of the ingredients and turn off the flame!
Remove this sauce in a cup, keep it aside!
Waffles
Heat the waffle maker
Brush a little oil to grease it ( very little oil is needed )
Take 1.5 heaped spoons of the fermented dosa batter spread it evenly and close the lid
Let it bake for 3-4 mins
And your crisp waffle dosa will be ready
You will have to check the amount of time it takes and make the rest of the waffle dosas accordingly!!
Serve it immediately with a big nice portion of the drizzling sauce on it !!
Enjoy this treat without feeling guilty!!
For latest health news and updates, expert advice on nutrition, diets and gut health, healthy recipes, and more, like us on Facebook or follow us on Instagram. Read more on Healthy Goodies Blog