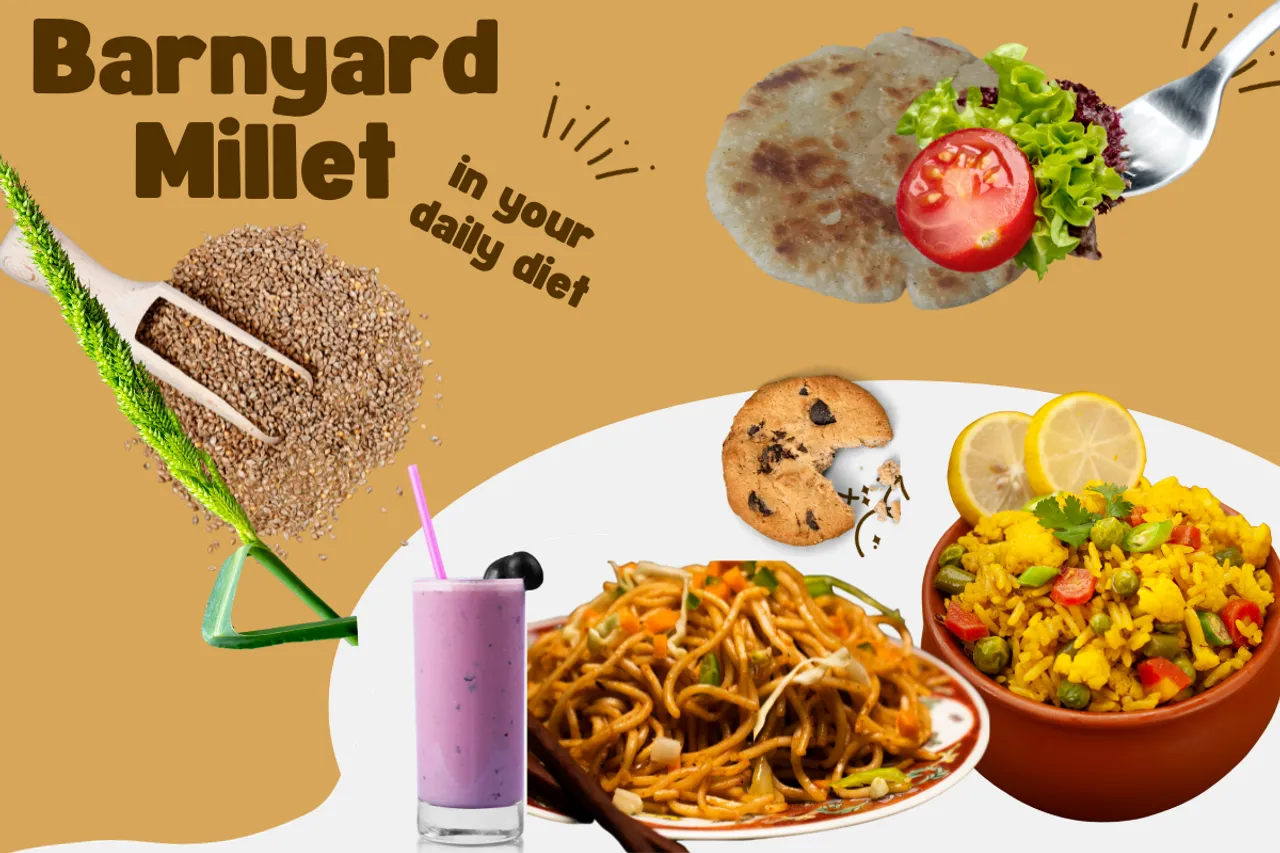 Barnyard millet, also referred to as "Sanwa" in some areas, is a healthy grain that is free of gluten and can be a wonderful addition to your daily diet. It can be used in a variety of dishes and is high in fiber, vitamins, and minerals. You can incorporate barnyard millet into your diet in the following ways:
Cook it like Rice: Use barnyard millet in place of rice when making meals. It tastes a little nutty and cooks similarly to rice. It can be a component of other dishes or the base for curries and stir-fries.
Barnyard Millet Porridge: Make a healthy breakfast porridge out of barnyard millet by cooking it in milk or water. For additional flavor and texture, sprinkle some honey, fruit, nuts, or seeds on top.
Barnyard Millet Upma: Sautéing barnyard millet with vegetables and spices will produce a flavorful upma. It's a fantastic option for breakfast or a light meal.
Barnyard Millet Pulao:Cooking barnyard millet with aromatic spices, vegetables, and herbs results in a flavorful pulao. It's a filling and delectable main dish.
Barnyard Millet Khichdi: Combine lentils, spices, and barnyard millet to make a filling and simple-to-digest khichdi. Particularly when you're feeling under the weather, it's a comforting meal.
Barnyard Millet Noodles: Traditional noodles can be replaced with nutrient- and gluten-free-rich barnyard noodles. These noodles, which are made from barnyard millet flour, have a nutty flavor and are ideal for those looking for a gluten-free and healthier alternative to their favourite noodle dishes.
Barnyard Millet Salad: Use cooked barnyard millet as the foundation of this wholesome salad. For a light dish, mix it with your preferred vegetables, herbs, and vinaigrette dressing.
Barnyard Millet Idli or Dosa: Idlis and dosas made from barnyard millet can be made by pulverizing the grain to make a batter. These South Indian specialties are not only mouthwatering, but also nutritious.
Barnyard Millet Soup: To add a hearty texture and boost the nutritional content of your meals, add barnyard millet to soups and stews.
Barnyard Millet Desserts: Use the flour to make puddings, cakes, and cookies. It gives your desserts a distinctive flavor and raises their nutritional value.
Barnyard Millet Roti or Flatbread: Chapatis or rotis made from barnyard millet can be made by combining it with wheat or other gluten-free flours. It serves as a healthy substitute for traditional wheat-based bread.
Barnyard Millet Snacks: Roast barnyard millet with herbs and spices to make a crunchy, wholesome snack. For an energy boost, you can also mix it into trail mixes.
Barnyard Millet Smoothie: Smoothie made from cooked barnyard millet, fruit, yogurt, and your preferred sweetener will be creamy and nutrient-dense.
Barnyard Millet Cookies: Barnyard cookies give traditional treats a healthy twist and are ideal for indulgence without feeling guilty. They are made with nutty millet goodness. These crunchy treats combine the allure of homemade baking with the health advantages of barnyard millet.
Remember to thoroughly rinse the millet before cooking to get rid of any extra starch or impurities. It is a versatile grain that can be adapted to different diets and cuisines, making it a great addition to your daily diet for its health benefits.
For latest health news and updates, expert advice on nutrition, diets and gut health, healthy recipes, and more, like us on Facebook or follow us on Instagram. Read more on Healthy Goodies Blog
Disclaimer : Healthy Goodies is a digital publisher and does not offer personal health or medical advice.  You should consult your healthcare provider before starting any nutrition, diet, exercise, fitness, medical, or wellness program.