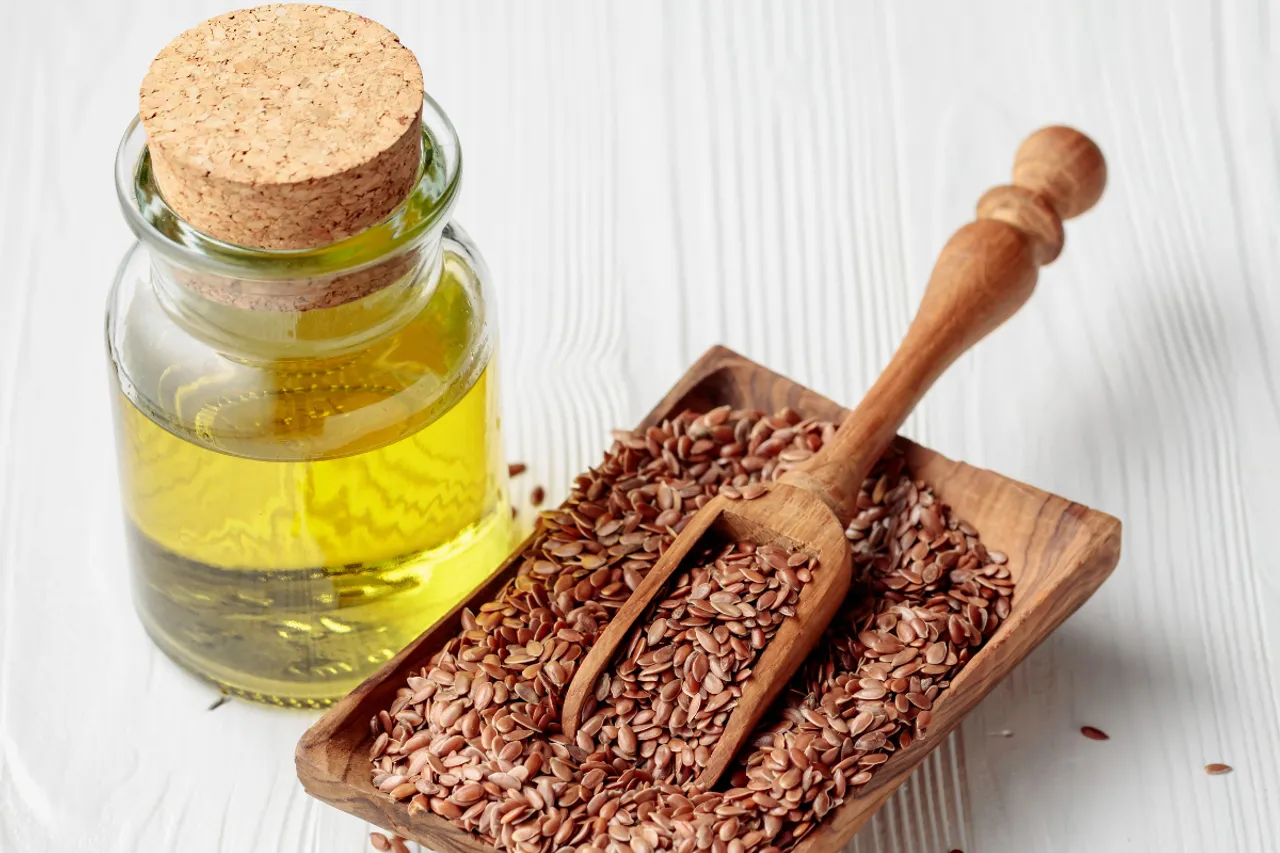 From the flax plant's seeds, cold-pressed flaxseed oil is produced and is regarded as a beneficial dietary supplement. Consuming cold-pressed flaxseed oil has some advantages, such as:
Smoothies: A tablespoon of cold-pressed sunflower oil can boost the amount of healthy fats and nutrients in your smoothies.
Supplements: You can buy liquid or capsule supplements made from cold-pressed sunflower oil. These supplements might offer a practical way to get the health benefits of sunflower oil.
Heart health: Consuming flaxseed oil may help lower levels of LDL (bad) cholesterol in the body, which lowers the risk of heart disease.
Helps in digestion: Flaxseed oil, which is high in fiber, can support a healthy digestive system. It might also aid in easing constipation-related symptoms.
Reduces inflammation: By reducing inflammation and encouraging healthy skin cell growth, the essential fatty acids found in flaxseed oil may help improve skin health.
Immune system may be strengthened: Flaxseed oil is abundant in antioxidants, which may strengthen the immune system and shield the body from oxidative stress and damage.
Although cold-pressed flaxseed oil may have numerous potential health advantages, it should not be used as a replacement for medical treatment. It is crucial to speak with your doctor first if you're thinking about taking flaxseed oil supplements.
Nutritional value of Cold-pressed Flaxseed oil
Alpha-linolenic acid (ALA), an omega-3 fatty acid, is especially abundant in cold-pressed flaxseed oil, which is a rich source of essential fatty acids. Omega-6 fatty acids, monounsaturated fatty acids, and saturated fatty acids are also present.
Cold-pressed flaxseed oil is a good source of vitamin E, a potent antioxidant that aids in protecting the body from oxidative stress and damage, in addition to essential fatty acids. It also contains trace amounts of potassium, thiamin, riboflavin, and other vitamins and minerals.
Cold-pressed flaxseed oil contains the following approximate nutritional values per tablespoon (14 grams):
Calories: 120

Fat: 14 grams

Saturated fat: 1 gram

Monounsaturated fat: 3 grams

Polyunsaturated fat: 10 grams

Omega-3 fatty acids (ALA): 8 grams

Omega-6 fatty acids: 2 grams

Vitamin E: 2.4 mg

Thiamin: 0.1 mg

Riboflavin: 0.1 mg

Niacin: 0.5 mg

Potassium: 35 mg
Despite being a good source of essential fatty acids and other nutrients, cold-pressed flaxseed oil is high in calories and should be consumed as part of a balanced diet.
For latest health news and updates, expert advice on nutrition, diets and gut health, healthy recipes, and more, like us on Facebook or follow us on Instagram. Read more on Healthy Goodies Blog
Disclaimer : Healthy Goodies is a digital publisher and does not offer personal health or medical advice.  You should consult your healthcare provider before starting any nutrition, diet, exercise, fitness, medical, or wellness program.